GIVEAWAY IS NOW OVER, WINNER WILL BE ANNOUNCED SOON! I am
waiting for the last few prizes to arrive in the mail!
Happy holidays everyone! I'll be doing a Grandma Thunderpants goodie bag giveaway for New Years.

For Christmas, I decided to give a gift that keeps on giving! Since I always get asked about where to buy clay or what items you need, I decided to include some very basic things you need to get started on making your very own charms and jewelry!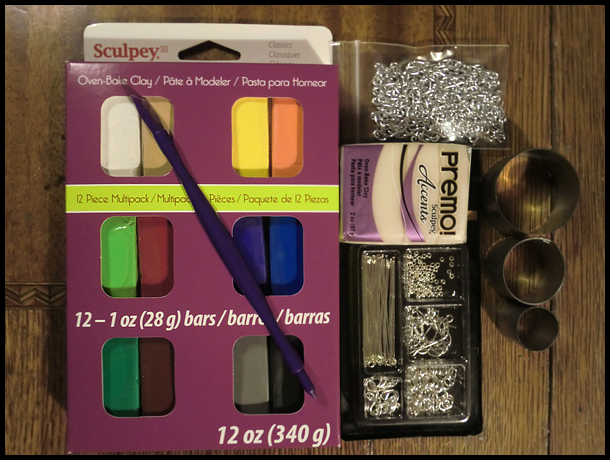 This starter pack comes with:
- 12 pack of Sculpey III colors
- 1 pack of Premo Translucent
- A basic clay sculpting tool (the purple thing!)
- Set of findings (lobster clasp, eye/headpins, jump rings, earring hooks.)
- 5 feet of silver chain
- A set of 3 circle cutters (your set will be sealed in its original packaging... it hasn't arrived in the mail yet!)
- A mystery BONUS! What is it...!? You won't know until a winner is chosen! (but trust me... it's good.)
This is about a $30 value, and it can be yours... free!
So how do you win?!
This is a giveaway, so there are some rules!
1.) To enter, you must

+fav this journal entry.
2.) You do not have to be a watcher of mine, but I recommend you do just so you know if you've won or not! Winner will be announced in a journal entry, so if you don't see the update you may never know you've won.

3.) Comment here and let me know at least one thing you'd like to make with this clay! This will not affect your chance at winning, but it'll be good for you to get some ideas flowing.

4.) If you're a young'un, please make sure it's okay for you to give out your address to me. International entries are fine, too! I will ship anywhere free of charge for the winner. (however if you need to pay any fees/taxes on international packages, I am not responsible for that. also it is not my fault if it gets held at customs. sorry!)
Giveaway ends on Friday, December 28th!
I will announce the winner in a journal entry, and they will have 7 days to reply to me. If they don't, I will select another winner. Entries will be privately (I am the only one who sees) numbered and I will use random.org to pick a number for me.
Have fun, and good luck! Right after this giveaway ends, I will be starting up another one for New Years. So stay tuned! And Merry Christmas. :3
GIVEAWAY IS NOW OVER, WINNER WILL BE ANNOUNCED SOON! I am waiting for the last few prizes to arrive in the mail!







For the rest of the month, use code "holidays12" for 10% off your entire order in my shop!

**
Website:
[link]
Etsy:
[link]
**code does not apply to custom orders
All orders will come with ONE of these three ornaments, selected at random.
---
ADD ME ON FACEBOOK

[link]
[link]
[link]
Facebook fans get exclusive promotional giveaways and discounts. I love my fans.

If you want to support me, check out my website here!
[link]
You can also find me on:
Etsy:
[link]
DeviantART:
[link]
Tumblr:
[link]
Facebook:
[link]
Blogger:
[link]
Youtube:
[link]
Livestream:
[link]
DA Feedback:
[link]







WANT TO COMMISSION?
[link]
[link]
[link]
Check that link out for all the info! Money commissions are unlimited, but point commissions are limited to five per month.

Information on point commissions can be found here:
[link]

Point Commission Slots for December

► open
► open
► open
► open
► open
HAVE A QUESTION?
Check out my FAQ!
[link]